Charminar Cement Roofing Sheets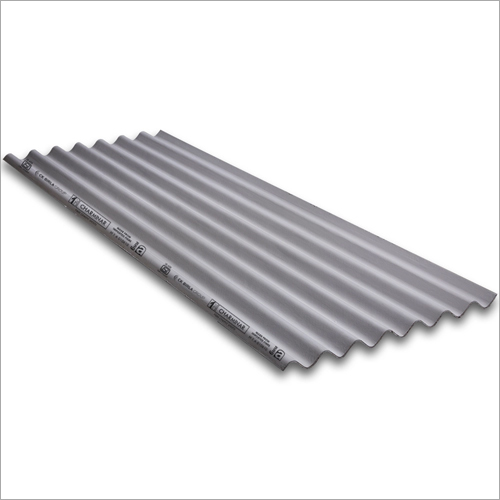 Charminar Cement Roofing Sheets
Price And Quantity
Product Specifications
Product Description
Fibre cement sheets are composed of fibre cement, and binders. Similar to steel in RCC, fibre is used as reinforcement in these sheets. A fibre cement is a composite material that combines Portland cement, sand, and fibres such as cellulose to enhance durability and strength. In addition to water, fibre cement is hardened. A small amount of chemical additives is also added during this process to enhance the strength. To extract moisture from fibre cement, it is rolled into sheets and compressed. Roofing sheets are then formed for additional impact resistance. The sheets are painted for a highly impressive aesthetic finish.
STANDARDS
IS:459-1992 Specification of Corrugated and Semi-corrugated Cement Sheets.
IS:3007-1999 Code Of Practice for laying of Cement Sheets, Part-1, Corrugated Sheets, Part-2, Semi-Corrugated Sheets, IS-1626(P3) 1994-Roofing Fittings.
Fibre Cement Sheets are economical, non- combustible, robust, lightweight, easy to install, and resistant to both corrosion and salty weather. These qualities make them an ideal building material for any requirement.
Fibre Cement Sheets have good thermal insulation properties and do not produce drumming sound during rain or hail storm.

Size : Width 8 x Height 19.5 Inches
THE BEST WAY OF USING THE CHARMINAR ROOF
Smooth surface of the sheet should be facing upward.
Never punch holes; drill them.
Drill holes in the sheets that are at least 3 mm larger than fixing bolts.
Be sure that sheets are mitered by cutting with a saw.
Be sure that sheets are mitered correctly.
Nuts should be screwed lightly first and tightened only after 13 or 14 sheets are laid.
Tighten the nuts evenly, allowing the EDPM washer to merely seal the space between the holes and the bolts.
Don't over tighten the nuts. Allow for the movement of structure.
Don't exceed purlin spacing of 1.4 metre for roofing, and 1.7 metre for side claddings. Provide a purlin at every end lap.
Don't exceed free overhang of 300mm at eaves.
Distance between outlets in gutter line should not exceed 15 metre.
Bolts are to be fixed only on the crown of the corrugation and not in the valley.
Bolts are to pass through the second and the last corrugation of every sheet as shown in the figure.
Do not fix bolts on the sheet at any point other than the one suggested.
Cat ladders and safety belts must be used while working on the roof.
Drilling on sheet must be done at least 75mm away from edge of the sheet.
Applications:
Charminar Fiber Cement Sheets are an ideal building material for roofing and side cladding for :
Industrial Buildings (All types)
Food Storage Godowns
Warehouses and Cold Storage
Poultry Farms, Diary Farms an Agricultural Sheds
Garages, Verandahs and Outhouses
Public Utility Sheds
Cooling Towers
Industrial buildings, houses etc in coastal / hilly areas
Cinema Halls
Stadiums
Railway & Bus Stations
Frequently Asked Questions
1. What is roofing sheet made of fibre cement?
Ans - These sheets are created using a special fibre mesh technology and the highest grade cement and fibre. You get a product with long-lasting value because of the strict quality control procedures used during the production process.
2. What is the lifespan of a fibre cement roof?
Ans - If properly placed and maintained, fibre cement siding can last up to 50 years. This sturdy siding's initial investment pays off for many years. Your house will look nicer and be weatherproof thanks to it.
3. Fiber cement sheeting is water resistant?
Ans - Fibre cement is resistant to rotting, warping, water damage, and termite infestation. Fiber cement offers the same sleek appearance as timber cladding while being more resistant to heat and moisture damage and requiring less frequent maintenance.
4. What drawbacks do cement roofs have?
Ans - Concrete is more susceptible to weathering than comparable products, and it can crack and become stained more quickly than, say, slate or clay tiles. This propensity can also promote the development of lichen and moss, which, if unchecked, can harm your roof over time.