Asbestos Cement Roofing Sheets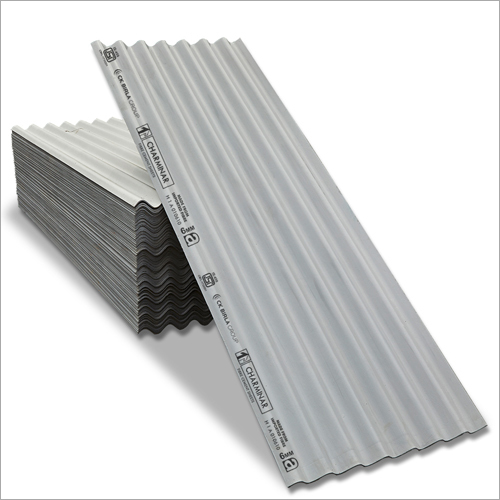 Asbestos Cement Roofing Sheets
Price And Quantity
Product Specifications
Product Description
Sheets made from fibres, Portland cement and binders are called fibre cement sheets. As in RCC, fibres are used to reinforce these sheets. These sheets are manufactured to exceed the strength specifications in the relevant Indian standards. Fibre cement sheets are widely used in a variety of applications because of their unique advantages and properties. Most often, they are found on the roofs and walls of agricultural and industrial buildings. The sheets may also be used in smaller structures like sheds and garages because of their wide variety of sizes.
STANDARDS
IS:459-1992 Specification of Corrugated and Semi-corrugated Cement Sheets.
IS:3007-1999 Code Of Practice for laying of Cement Sheets, Part-1, Corrugated Sheets, Part-2, Semi-Corrugated Sheets, IS-1626(P3) 1994-Roofing Fittings.
Fibre Cement Sheets are economical, non- combustible, robust, lightweight, easy to install, and resistant to both corrosion and salty weather. These qualities make them an ideal building material for any requirement.
Fibre Cement Sheets have good thermal insulation properties and do not produce drumming sound during rain or hail storm.

Size : Width 8 x Height 19.5 Inches
Technical Specifications :
Nominal length (in meters)

3.6


Actual Area Covered
(Allowing end lap and side lap)
3.0 Metre long sheet
1.5 Metres long sheet

2.88 Sq.m
1.36 Sq.m

Thickness (+free Size / -0.5mm)

6 mm

Covering Efficiency
(Allowing end lap and side lap)
3.0 Metre long sheet
1.5 Metres long sheet

91%
87%

Pitch of Corrugation

146mm

Depth of Corrugation

48 mm

Overall Width

1050 mm

Approx. Weight per 10 sq. mts. Covere
3.0 Metre long sheet
1.5 Metres long sheet


133 Kg
140 Kg

Effective Width

1010mm

Minimum end lap at purlins (for slopes not less than 18")

150 mm

Minimum Purlin spacing for roofing

1.4m

Thermal Transmittance : U" Value

7.95 w/m2
Deg. C

Maximum rail spacing for vertical cladding

1.7m

Maximum over hang unsupported

300mm

Color

Natural Grey

Running meters per ton (approx.)

79m
THE BEST WAY OF USING THE CHARMINAR ROOF
Smooth surface of the sheet should be facing upward.
Never punch holes; drill them.
Drill holes in the sheets that are at least 3 mm larger than fixing bolts.
Be sure that sheets are mitered by cutting with a saw.
Be sure that sheets are mitered correctly.
Nuts should be screwed lightly first and tightened only after 13 or 14 sheets are laid.
Tighten the nuts evenly, allowing the EDPM washer to merely seal the space between the holes and the bolts.
Don't over tighten the nuts. Allow for the movement of structure.
Don't exceed purlin spacing of 1.4 metre for roofing, and 1.7 metre for side claddings. Provide a purlin at every end lap.
Don't exceed free overhang of 300mm at eaves.
Distance between outlets in gutter line should not exceed 15 metre.
Bolts are to be fixed only on the crown of the corrugation and not in the valley.
Bolts are to pass through the second and the last corrugation of every sheet as shown in the figure.
Do not fix bolts on the sheet at any point other than the one suggested.
Cat ladders and safety belts must be used while working on the roof.
Drilling on sheet must be done at least 75mm away from edge of the sheet.
Applications :
Charminar Fiber Cement Sheets are an ideal building material for roofing and side cladding for :
Industrial Buildings (All types)
Food Storage Godowns
Warehouses and Cold Storage
Poultry Farms, Diary Farms an Agricultural Sheds
Garages, Verandahs and Outhouses
Public Utility Sheds
Cooling Towers
Industrial buildings, houses etc in coastal / hilly areas
Cinema Halls
Stadiums
Railway & Bus Stations
Contact Us
SY No. 133, 7th Floor, SLN Terminus, Beside Botanical Gardens, Gachibowli,, Hyderabad, Telangana, 500032, India
Phone :08035938903